NASCAR is one of the most popular and thrilling forms of motorsports in the world. With its roots in the Southern United States, NASCAR has grown into a national phenomenon that attracts millions of fans every year. But what makes NASCAR so special? One of the reasons is its rich and diverse traditions that add flavor and excitement to every race. In this article, we will explore some of the most iconic and beloved traditions that make NASCAR race day a unique and unforgettable experience.
American Pride and the Military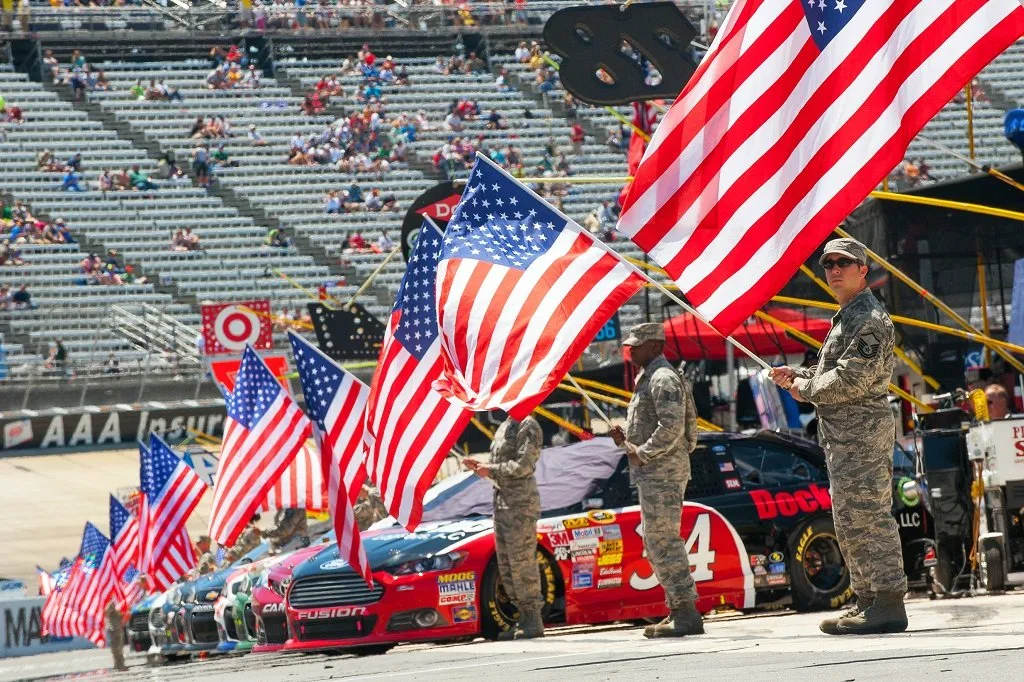 One of the first things you will notice at any NASCAR event is the display of patriotism and respect for the military.A massive American flag unfurls on the infield or waves from a pole before every race. A celebrity or a local talent sings the national anthem, often with a flyover by military jets or helicopters. The drivers, crew members, officials, and fans stand at attention and salute or place their hands over their hearts. Sometimes, a chaplain or a clergy member offers a prayer.
This kind of traditions reflects NASCAR's race values and history, which Bill France Sr., a World War II veteran, founded to organize stock car racing in America. Many of NASCAR's early drivers were also veterans who competed on dirt tracks with their skills and courage. Today, NASCAR honors and supports the military by inviting service members as guests, featuring them in pre-race ceremonies, donating tickets to military charities, and sponsoring military-themed cars.
Some of the most memorable moments involving American pride and the military in NASCAR include:
Dale Earnhardt Jr. waving an American flag out his window after winning at Dover in 2001, just days after 9/11.
The 2008 Coca-Cola 600 at Charlotte Motor Speedway, which was dedicated to fallen soldiers and featured their names on each car's windshield.
The 2013 Daytona 500, which was attended by President Barack Obama and First Lady Michelle Obama as honorary starters.
Speedweeks at Daytona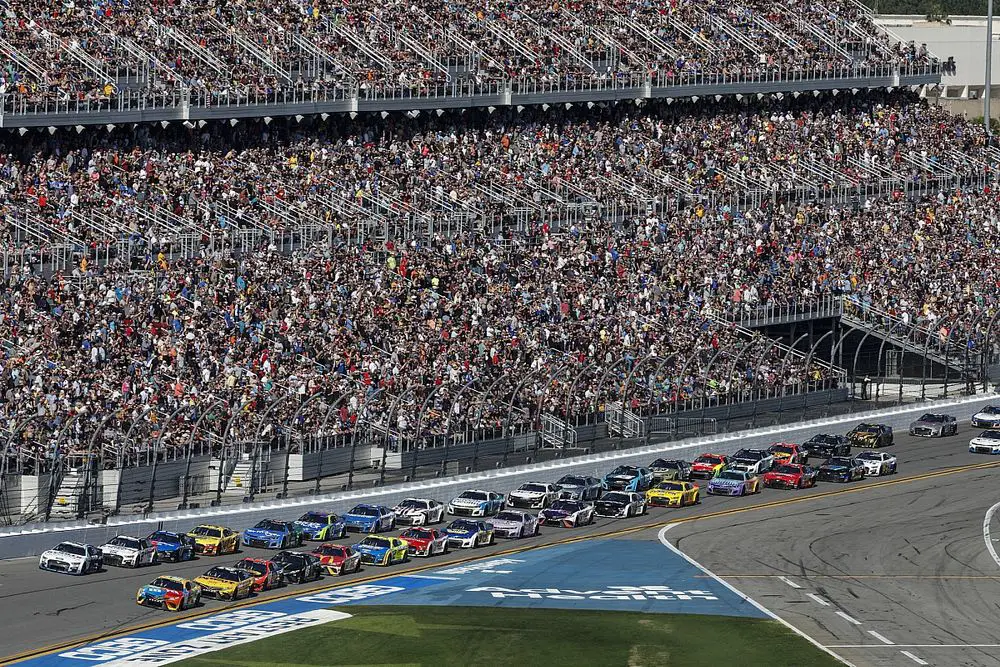 A two-week extravaganza known as Speedweeks at Daytona marks the start of every NASCAR season. This tradition started in 1959, when the newly built Daytona International Speedway hosted the first Daytona 500. Since then, Speedweeks has become a festival of racing that features a variety of events and activities for fans and drivers alike.
Some of the highlights of Speedweeks include:
The Budweiser Duel, which determines the starting lineup for the Daytona 500 with a pair of 150-mile qualifying races.
The Daytona 500, which is the most prestigious and anticipated race in NASCAR, also known as "The Great American Race".
The Fan Zone, which is an interactive area where fans can meet drivers, see cars, watch concerts, and enjoy food and drinks.
Speedweeks and the Daytona 500 have a lot of history and significance for NASCAR. They showcase the best of the sport's speed, skill, and drama. Some of the most legendary drivers have won the Daytona 500, such as Richard Petty, Dale Earnhardt, Jeff Gordon, and Jimmie Johnson. Some of the most thrilling finishes have also happened at Daytona, such as the photo finish between Lee Petty and Johnny Beauchamp in 1959, the last-lap crash between Cale Yarborough and Donnie Allison in 1979, and the first win for Dale Earnhardt Jr. in 2004.
Fan Loyalty
NASCAR fans are known for their loyalty and passion for their favorite drivers, teams, and sponsors. They show their support by wearing merchandise, displaying banners, cheering loudly, and following them on social media. NASCAR fans also travel long distances to attend races and camp out in the infield or nearby areas. They form communities and friendships with other fans who share their interests and opinions.
Fan loyalty is a vital part of NASCAR's success and appeal. It creates a strong bond between the sport and its audience. It also generates revenue and exposure for the sport and its partners. However, fan loyalty can also pose some challenges for NASCAR. Sometimes, fans can be too loyal or biased towards their drivers, leading to conflicts or controversies with other fans or drivers. Sometimes, fans can be too resistant to change or innovation in the sport, preferring to stick to tradition or nostalgia.
Some of the benefits and challenges of fan loyalty in NASCAR include:
The rise of Dale Earnhardt Jr., who inherited his father's fan base after his death in 2001 and became the most popular driver in NASCAR for 15 consecutive years.
The rivalry between Jeff Gordon and Dale Earnhardt Sr., who represented different styles and generations of NASCAR and divided fans into two camps.
The introduction of the Car of Tomorrow in 2007, which was designed to improve safety and competition but was criticized by some fans for being too generic and ugly.
Polish Victory Laps
The Polish victory lap is one of the most distinctive and touching traditions in NASCAR. A driver who wins a race does this by driving around the track in the opposite direction (clockwise) to salute the fans and celebrate his victory. Alan Kulwicki, a Polish-American driver, started this tradition when he won his first race in 1988 and performed a reverse lap as a tribute to his heritage. He later did this again after winning his only championship in 1992.
Many drivers adopted his tradition to honor him or other causes after Kulwicki died in a plane crash in 1993. For example:
Kevin Harvick held three fingers out his window to honor Dale Earnhardt Sr. after winning his first race in his car at Atlanta in 2001.
Matt Kenseth waved a Wisconsin flag to honor his home state after winning his first race at Charlotte in 2000.
Joey Logano carried an American flag to honor veterans after winning at Phoenix in 2015.
The Polish victory lap lets drivers express their emotions and gratitude after a hard-fought win. It also lets fans share their joy and appreciation with their heroes.
Driver Introductions
Another fun and exciting tradition in NASCAR is the driver introductions before each race. This is when each driver walks or rides onto the track with music, pyrotechnics, and fan interaction. The drivers can choose their own songs, outfits, props, and gestures to showcase their personalities and preferences. The fans can cheer or boo them depending on their allegiance or mood.
Driver introductions are a way for drivers to entertain and connect with fans before they get behind the wheel. They are also a way for fans to get to know more about their drivers' tastes and styles. Some of the most memorable driver introductions in NASCAR history include:
Kyle Busch wearing a Darth Vader helmet and playing with a lightsaber at Bristol in 2015.
Clint Bowyer riding a motorized cooler with beer cans at Talladega in 2014.
Brad Keselowski carrying an American flag and wearing an American flag-themed firesuit at Charlotte in 2017.
Victory Lane Celebrations
The climax of every NASCAR race is the victory lane celebration. This is when the winning driver parks his car in a designated area surrounded by his crew, sponsors, officials, media, and fans. He then gets out of his car and celebrates his win
with various elements, such as:
Champagne, confetti, or water bottles that are sprayed or poured on him and his crew.
Trophies, hats, or flags that are presented or held by him and his crew.
Interviews, speeches, or prayers that are given by him and his crew.
Sponsors, logos, or products that are displayed or promoted by him and his crew.
The victory lane celebration is a way for the winning driver to enjoy and share his success with his team and his fans. It is also a way for the sport and its partners to showcase their brands and their values. Some of the unique or emotional victory lane celebrations in NASCAR history include:
Dale Earnhardt Sr. being congratulated by every other driver and crew member after winning his first and only Daytona 500 in 1998.
Tony Stewart climbing the fence and waving to the fans after winning at Indianapolis in 2005 and 2007.
Martin Truex Jr. dedicating his win at Charlotte in 2016 to his girlfriend Sherry Pollex, who was battling ovarian cancer.
Conclusion
NASCAR race day traditions are a big part of what makes the sport so enjoyable and meaningful for everyone involved. NASCAR race day traditions reflect the history, culture, and values of NASCAR and its fans. They also create a sense of excitement, entertainment, and connection among the drivers, teams, sponsors, media, and fans. Whether you are a new or old fan of NASCAR, you can appreciate and participate in these traditions and have a great time watching the races.
What are some of your favorite NASCAR race day traditions? How do they enhance your experience as a fan? Share your thoughts and opinions in the comments below.