You can now relive those nostalgic moments on your Mac! Thanks to the wonders of technology and emulation software, you can experience the golden era of gaming right on your computer. This article walks you through the exciting world of the Best N64 Emulator for MAC Users, how to set them up, and their fantastic benefits.
Best N64 Emulator for MAC Users
Before we explore the emulators, let us know what an emulator is and what it does. Essentially, an emulator replicates the hardware and software of the original gaming console on your Mac.
In this case, the N64 emulator will mimic the Nintendo 64 console, allowing you to play those classic games without needing the original hardware, which results in a classic experience on your Mac that gives you nostalgia.
Regarding N64 emulators for Mac, you have multiple great options. Let's look closely at each Emulator and discover what sets them apart.
1. OpenEmu Emulator: A World of Emulation Possibilities
At the top of our list is OpenEmu, a versatile and user-friendly N64 emulator for Mac. This open-source Emulator supports Nintendo 64 games and covers many other consoles, including Gameboy Advance, Sony PSP, and Sega MegaDrive. With integrated controller support, you can use your favorite USB or Bluetooth controllers immediately, immersing yourself in the gaming experience. You can easily download OpenEmu from its official website or the GitHub repository for a seamless installation process.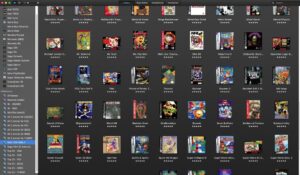 Key Features:
Complete open-source and free to use.

Integrated ROM library for easy game management.

Supports USB/Bluetooth game controllers, including PlayStation Dualshock, Nintendo Switch Pro Controller, Wiimote, and Xbox One S wireless controller.

Offers multiple console emulation, allowing you to play games from various retro consoles.
 Why Choose OpenEmu?
1. A Vast Collection of Emulated Consoles: OpenEmu goes above and beyond N64 emulation, offering support for a wide range of retro consoles. Whether you're in the mood for classic Gameboy Advance titles or yearning to relive the charm of the Sega MegaDrive, OpenEmu has got you covered. 
2. Great UI and Organized ROM Library: OpenEmu has a user-friendly interface that makes navigating your gaming library a breeze. The integrated ROM library ensures all your games are neatly organized and your progress is automatically backed up.
3. Seamless Controller Support: The last thing you want is to struggle with controller configurations. Thankfully, OpenEmu is a champ in recognizing and integrating various USB and Bluetooth game controllers. From PlayStation Dualshock to Nintendo Switch Pro Controller, Wiimote, and Xbox One S wireless controller, you can enjoy a smooth gaming experience without any headaches.
How to Get Started with OpenEmu?
Getting started with OpenEmu is a piece of cake. Just follow these simple steps:
Step 1: Visit http://www.openemu.org/ and click the download button.
Step 2: If you want access to the N64 emulator and more consoles, choose the "OpenEmu Experimental" option from the dropdown menu. This version includes a complete suite of supported consoles, including the beloved Nintendo 64.
Step 3: Alternatively, you can find OpenEmu on its GitHub repository if you prefer the standard download.
Step 4: Once the download is complete, the installation process is a breeze. You can start playing your favorite games.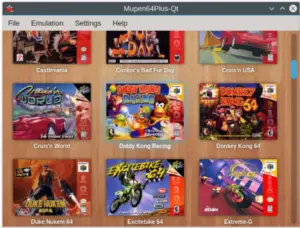 Key Features:
Infrared remote control support (LIRC).

Rumble Pak integration for enhanced gameplay.

Complete cheat system support, including GameShark cheat codes.

Front-end Command-line interface for advanced users.

Two high-resolution OpenGL plugins for better graphics.
Next in line is the Mupen 64 Plus emulator, known for its cheat system support, allowing you to use GameShark cheat codes during gameplay. This feature is a must-have for many gamers, including me. This Emulator also offers flexibility in controller options, supporting Infrared remote controls and the Rumble Pak system. You can easily play even graphically demanding ROMs with two high-resolution OpenGL plugins. Download and install the Mupen 64 Plus emulator on your Mac from its official website or follow the instructions on GitHub.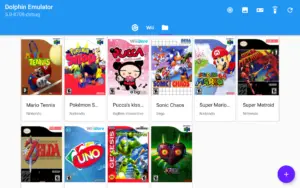 Dolphin N64 Emulator, primarily known for its Gamecube and Wii emulation, now extends its support to N64 games, making it an exciting choice for Mac users. It is free as well as has a lot of features that enhance your gaming experience. It has great visuals and multiplayer support that makes gaming amazing.
Key Features:
Full HD (1080p) support for crisp and clear visuals

Compatibility with all PC controllers for seamless gameplay

Networked multiplayer gaming for online fun with friends

Regular updates and feature improvements for a better user experience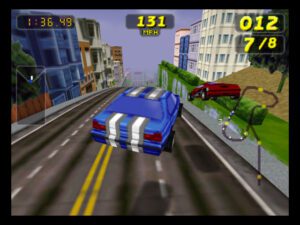 We have the Sixtyforce Nintendo 64 emulator, featuring a smooth and amazing UI especially made for Mac OS X. While it supports a limited number of games compared to other emulators, it includes some of the most popular N64 titles. The Emulator allows easy sharing and installation of Nintendo 64 ROMs through zip files, making it easy to start with your favorite games. Download the Sixtyforce emulator from its official website and revisit the classics effortlessly.
Key Features:
Limited games support but includes some of the best N64 games.

Lightweight and easy-to-use UI designed for Mac OS X.

The simple installation process for quick setup.

Easy sharing of Nintendo 64 ROMs through zip installation files.
5. RetroArch: Highly Flexible Emulator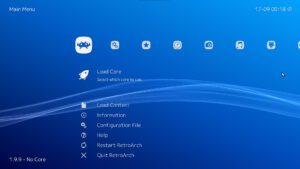 RetroArch is a flexible emulator capable of emulating various gaming consoles, including the N64. However, it may require more technical know-how than the other emulators mentioned. Once you start using it, there is no going back to other emulators since it is very flexible.
Key Features of RetroArch:
Wide range of console emulation possibilities

Auto-scan feature for easy file management

Cheat code support for an added gaming advantage.

Dynamic and impressive open-source Emulator for gaming experts
Tips for Optimizing Emulator Performance
Getting the best performance out of your N64 emulator can significantly enhance your gaming experience. Here are some tips to optimize your Emulator for top-notch gameplay:
Adjust Graphics Settings

: Emulators often allow you to customize graphics settings to balance performance and visual quality. Experiment with different resolutions and graphics plugins to find the sweet spot.

Controller Configuration

: Spend some time configuring your controller settings for optimal responsiveness. Mapping the buttons can significantly affect how well you can play the games.

Save States and Quick Saves

: Take advantage of save states and quick saves to avoid losing progress in challenging parts of the games. These features are especially helpful for difficult boss battles or tricky platforming segments.

Keep Your Mac Updated

: Regularly update your Mac's operating system and graphics drivers to ensure compatibility with the latest version of the Emulator and improved performance.

Close Unnecessary Apps

: To free up system resources, close any unnecessary applications running in the background while gaming.
Must-Play Games on N64 Emulator for MAC Users
Now that you have your N64 emulator all set up on your Mac, you might wonder which games to dive into first. Below are some must-play N64 classics that will take you on a nostalgic trip down memory lane: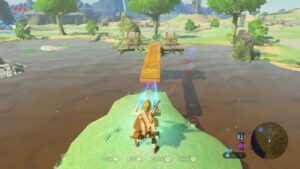 The Legend of Zelda: Ocarina of Time

: Embark on a legendary quest as Link to save Princess Zelda and the kingdom of Hyrule in this iconic action-adventure game.

Super Mario 64

: Join Mario in his 3D platforming debut as he explores Princess Peach's castle and jumps into magical paintings to rescue her from Bowser's clutches.

GoldenEye 007

: Experience the groundbreaking first-person shooter that revolutionized multiplayer gaming on consoles and set the standard for future shooters.

Mario Kart 64

: Gather your friends and engage in heated kart racing with beloved Nintendo characters in this fun and competitive racing game.

Super Smash Bros.

: Battle it out with an all-star cast of Nintendo characters in this beloved fighting game that has become a staple of competitive gaming.
Retro Gaming Controller Showdown
Part of the fun of playing retro games is using authentic controllers. But which controller is the best for N64 emulation on Mac? Let's explore some popular options:
Original N64 Controller

: For the ultimate nostalgic experience, using the original N64 controller with a USB adapter can't be beaten. The unique three-pronged design and precise control stick evoke the true spirit of '90s gaming.

Modern USB Controllers

: Many USB controllers are designed with retro gaming in mind and provide excellent emulator compatibility. Look for controllers with a layout and feel reminiscent of the N64 controller.

Wireless Bluetooth Controllers

: If you prefer a wireless setup, several Bluetooth controllers offer seamless connectivity with Mac systems. These controllers often come with additional features like rechargeable batteries and customizable buttons.

Retro Gamepad Adapters

: Some adapters allow you to use original N64 controllers or other retro gamepads with modern USB connections, giving you the best of both worlds.
Also see – PS5 Picture in Picture
FAQs – N64 Emulators for Mac
1. Can I play multiplayer games on these emulators?
Absolutely! Both OpenEmu and Dolphin N64 Emulator offer multiplayer support, allowing you to enjoy online gaming sessions with your friends. Dolphin, in particular, is known for its smooth networked multiplayer experience.
2. Are these emulators legal to use?
Emulators are legal software, but the legality of using ROMs (game files) depends on the copyright and licensing of the games. It is generally advised to only use ROMs for games that you own physically to stay within legal boundaries.
3. Can I connect my original N64 controllers to these emulators?
Yes, you can! OpenEmu supports various USB and Bluetooth controllers, including the original N64 controllers using USB adapters. Mupen 64 Plus and Dolphin also allow you to use original controllers through USB connections.
4. Do I need a high-end Mac to run these emulators smoothly?
Not necessarily. While having a more powerful Mac can offer a better gaming experience, these emulators are designed to be relatively lightweight and should run on most modern Mac computers. However, a more powerful Mac would be advantageous for smoother graphics and performance.
5. Can I use save states in these emulators?
Yes, save states are supported in most of these emulators. Save states allow you to save your game progress at any point and resume from that exact point later, providing a convenient way to pick up where you left off without relying on in-game save points.
6. How do I update the emulators to the latest version?
For OpenEmu, you can check for updates within the application itself. Go to "OpenEmu" in the menu bar and select "Check for Updates." For other emulators like Mupen 64 Plus and Dolphin, you can visit their websites or GitHub repositories to find the latest version and update instructions.
7. Can I use these emulators on other platforms, such as Windows or Linux?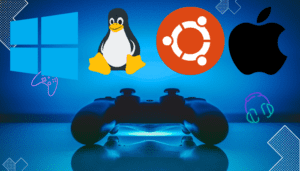 Yes, some of these emulators run across multiple platforms and can also be used on Windows and Linux systems. OpenEmu, for instance, has versions available for Windows and Linux in addition to Mac. Mupen 64 Plus and Dolphin also have versions compatible with Windows and Linux.
8. Do these emulators support game enhancement features like high-definition graphics and filters?
Yes, many emulators offer features to enhance the games' graphics. Dolphin, for instance, supports Full HD (1080p) resolution for crisp visuals. Additionally, some emulators provide filters to improve the visual quality of the games while preserving their retro charm.
9. Can I use my Mac's keyboard as a controller for these emulators?
You can use your Mac's keyboard as a controller, but it might not give you the best gaming experience. For a more authentic feel, it is recommended to use USB or Bluetooth controllers, which these emulators support.
10. Are there any risks of using emulators on my Mac?
Using emulators is safe, but downloading ROMs from unofficial sources can pose security risks. Always download emulators and ROMs from reputable websites to avoid potential malware or copyright infringement issues.
Final Thoughts:
Summary of all emulators
Emulator
Key Features
OpenEmu
– Complete open-source and free to use.
– Supports USB/Bluetooth, game controllers.
– Offers multiple console emulation.
Mupen 64 Plus
– Cheat system support with GameShark codes.
– Infrared remote control and Rumble Pak integration.
Dolphin N64 Emulator
– Full HD (1080p) support for crisp visuals.
– Compatibility with all PC controllers.
– Regular updates and feature improvements.
Sixtyforce Nintendo 64 Emulator
– Lightweight and easy-to-use UI.
– Easy sharing of Nintendo 64 ROMs through zip files.
RetroArch
– Wide range of console emulation possibilities.
– Auto-scan feature for easy file management.
– Cheat code support for an added gaming advantage.
Gone are the days of longing for Nintendo 64 gaming on your Mac. With these great N64 emulators, you can relive the magic of classic games and embark on a nostalgic journey like never before. Whether you choose OpenEmu for its diverse console support, Mupen 64 Plus for its cheat system, or Sixtyforce for its simplicity, you will find an emulator that suits your gaming preferences.
So, get ready to recreate your childhood gaming memories and embark on an unforgettable adventure with your favorite N64 Emulator for MAC today! Happy gaming!