Dwarf Fortress is one of the most amazing and popular sandbox-style games, which allows you to build and manage a fortress of dwarves. In this Fortress, you need to manage a lot of stuff, almost the same as you can expect in a real-world colony. From finding food to training animals and a lot more is to be taken into consideration for effective colony setup. We will be seeing how we can make Cups and Mugs in Dwarf Fortress.
The most important thing is to maintain the moods of your dwarves for an effective colony setup. For that, along with food, drink and all necessary resources, you will require cups to drink liquid out of. If dwarves do not have cups to drink the stuff, it could be an annoying thing for your colony.
In this comprehensive guide, we will delve deeper into the world of Dwarf Fortress and will show you how to make cups and mugs in Dwarf Fortress for your Dwarves.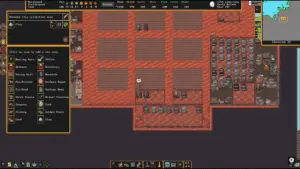 Let's get started!
Making Rock Mugs and Wooden Cups:
Here is how to make rock mugs and wooden cups in Dwarf Fortress
Start up Dwarf Fortress and load your game.

Find or build a Craftdwarf's Workshop in your Fortress.

Click on the Craftdwarf's Workshop to open its menu.

Choose "Add new task" from the menu.

Pick either "Rock" or "Wood" from the options. This will show you more choices.

In that list, find and click on "Rock mug" or "Wooden cup" to tell your dwarves to make those cups.

Your dwarves will get to work crafting the mugs or cups.

Once they're done, you'll see the mugs and cups in your Fortress's stuff.
Creating Metal Goblets:
Here is how to create metal goblets in Dwarf Fortress
Make a Furnace inside your Fortress.

Get some fuel ready, like wood or charcoal.

Gather metal ores, which you can mine or trade for.

If you need to, use the Furnace to turn wood into charcoal.

Put your metal ores and charcoal into a Smelter.

Tell the Smelter to turn those ores into metal bars.

Build a Metalsmith's Forge next.

Use the Forge to turn your metal bars into metal goblets.

The finished goblets will show up with your Fortress's things.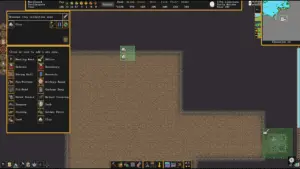 Crafting Glass Goblets:
Here is how to craft glass goblets in Dwarf Fortress
Set up a Glass Furnace in your Fortress.

Make sure you have some fuel for it.

Get some sand, either by digging it up or buying it.

Put the sand into the Glass Furnace.

Add the fuel to the Furnace to melt the sand.

Your dwarves will use the melted sand to make glass stuff, like goblets.

You'll find the glass goblets in your Fortress's stuff.
How to make cups in Dwarf Fortress?
Making cups in Dwarf Fortress is not that husking task until and unless you have the required resources in your section. Like most items, you need to do a workshop for crafting cups as a first step. Once you have a workshop with you, follow this series of steps to make cups in Dwarf Fortress easily:
Do a workshop initially with a piece of wood.

After crafting the workshop, select the option to open up the workshop.

List down all the workshop menus.

Start the work with making the cup by adding a new job using the 

Add new task

 option.
The Dwarf will then start the crafting process of the cups. After the crafting process is done, the Dwarf will bring the crafted cup to the desired storage area, and your cup is ready to use now.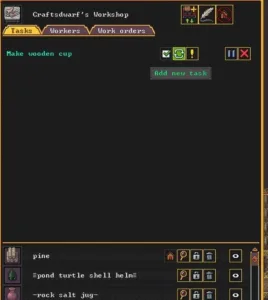 Initially, it could be complicated for you to use. However, after trying several times, you will have a clear depiction of which type of workshop you will need to create any specific item. Furniture essentials like beds and doors are made up in carpenters' workshops; weapons will be made in a forge etc.
One of the amazing features of Dwarf Fortress is that you can easily customize all of your items in the game. You can choose different types, shapes and sizes to make cups or goblets as per your choice. You can also customize using different designs to make your cups stylish and funky. Also, you can add up different colours to your items using different types of dyes available.
Once your cups are ready, you can use them for a variety of purposes apart from drinking by dwarves. You can use wooden cups as decorative items and vessels for storing liquids.
Ever played Cloud Meadow? Checkout Cloud Meadow Waterfall Riddle Answers 
Why do you need Cups and Mugs in Dwarf Fortress
Cups are really important in your Fortress. Your dwarves will need them whenever they need to sip. If these little vessels are missing, your dwarves' mood takes a dip. Cup-making is easy with wood. So, there's really no excuse for your dwarves to drink in a way that's not good.
Final Words:
In conclusion, Dwarf Fortress provides an amazing and excellent opportunity for gamers to utilize their creativity and build unique things. Using the workshop, players can easily create cups to use for drinking, decoration and storage purposes for their colony. With proper planning and creativity, players can easily make these useful items to make their Fortress a better place.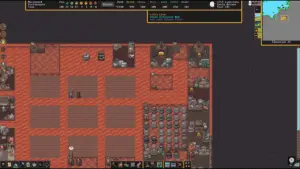 We hope this guide has provided you with significant knowledge on how to craft cups in Dwarf Fortress. Got any queries or suggestions? Let us assist you in the comment section below.
Happy Crafting!