The Roblox game Project Slayers is one of the favorites right now. It gained a lot of popularity and due to its anime-inspired theme, it gathered anime fans too along with the already existing gaming community. It is mainly inspired by the anime "Demon Slayer". With over 300k likes until now and has become an obsession for a lot of players worldwide.
How to equip titles in Project Slayers
The players can obtain different titles in Project Slayers by clearing different dungeons, dealing with opponents, and in some other way. The titles mainly display the skill level of the player and add a kind of personalization to it. There are more than 10 titles, and each title has different parameters that a player needs to attain to unlock the title. After unlocking the title, a player can equip it.
Ways to equip a title
1. Press 'M' to view the experience menu and click on the 'Profile' icon which is at the last.
2. After clicking on the 'Profile' icon, a list of titles will appear along with the unlocking criteria of each.
3. If you have unlocked the criteria of any of the titles, you can click on the 'display title' and that title will be alloted to your character's head. Each title comes with different advantages, and you will get that once you obtain the title.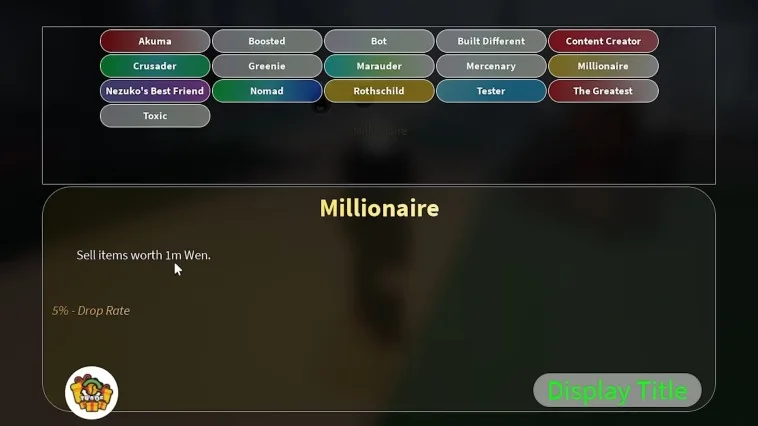 We have an interesting article for Diablo series fans, do check out our article related to the newly released Diablo 4
Project Slayers update 1.5
Project Slayer's latest update came on May 19th, 2023, it was a very anticipated update among gamers. There was a huge hype regarding it, and it did not disappoint the fanbases. The update added some new titles and along with that a lot of new things arrived. The update includes four new locations that are Ouwohana, Sound Cave, Snowy Place, and Devourer Jaw.
🔼[Update 1.5🎆🥶] Project Slayers Code "SorryForIssuesToday" Tokito (Mythic Spin) #tokito #tokitomuichiro #mistbreathing #sorry #issues #today #mythic #spin #demonslayer #projectslayerscodes #projectslayers #demonslayerkimetsunoyaib #swordsmithvillagearc #sorryfor #roblox #lucky pic.twitter.com/VABOe64UTZ

— Lonthelast (@LontheLast) May 30, 2023
Also, the game has got 25 new titles. Now, the New Max Level is 225 and the New Mastery Max is 250. With the introduction of new weapons and items, the game just got better, and it will be interesting to see what they will bring in the next update.
There is a new game that has created a lot of buzz in the gaming community due to its origination from the famous meme "crab dance". Yes, you guessed it right, it is the Crab Champions. We have an interesting article related to it, do check it out: Crab Champions Totems: All totems including Fuse Totem, Gold Totem & more