A pit stop is a brief pause in a race when a car pulls into the designated area on the side of the track to receive service from its crew. A pit stop can involve refuelling, changing tires, fixing the damage, or making adjustments to the car. Pit stops are one of the most crucial aspects of any NASCAR race, as they can make or break a driver's chance of winning. A successful pit stop can save time, gain positions, or avoid problems on the track. A failed pit stop can waste time, lose positions, or cause problems on the track.
According to Racing Insights, a typical pit stop in NASCAR can last anywhere from 12 to 16 seconds for four tires and fuel, 7 to 9 seconds for two tires and fuel, or 2 to 3 seconds for fuel only. Alex Bowman's team set the record for the fastest four-tire and fuel pit stop in NASCAR history in 2021. They completed the pit stop on lap 304 of the Drydene 400 at Dover International Speedway. The pit stop took only 12.1776 seconds.
But how are these pit stop times measured? How accurate and reliable are they? And how do they affect the outcome of a race? These are some of the questions that this article will try to answer. This article gives an informative and comprehensive overview of how and why NASCAR pit stops are timed.
How pit stops work in NASCAR
Pit Crew Roles and Responsibilities
A NASCAR pit crew has up to eight members who work together to service the car during a pit stop. The crew chief leads the team from the pit box and makes the strategic decisions. The car chief supervises the team at the shop and at the track. Only five members can go over the wall at a time. They are:
The jackman: He lifts each side of the car with a 22-pound jack so the tires can be changed.
The tire changer: He uses an air wrench to remove and replace the lug nuts on each tire.
The tire carrier: He brings the new tires over the wall and helps the tire changer with installing them.
The gasman: He refuels the car with a dump can that holds up to 12 gallons of fuel.
The utility man: He assists with various tasks such as cleaning the windshield, applying tape to the grill, or handing tools to other crew members.
Pit Stop Equipment, Rules, and Penalties
The equipment and tools used for a pit stop are specially designed for speed and efficiency. The dump can has a nozzle that connects to the car's fuel cell. The air wrench has five sockets that match the five lug nuts on each wheel. A lever on the jack lets it quickly go up or down. Colors or numbers mark the tires to show their position on the car.
NASCAR sets the rules and regulations that govern pit stops to ensure fair competition and safety. The cars must follow a speed limit on pit road that varies depending on the track. Electronic sensors measure the time and distance between two points to enforce the speed limit. If a car breaks the speed limit, it will face a penalty such as a drive-through, a stop-and-go, or a loss of lap. The cars must also stop within their assigned pit stall and not block or interfere with other cars. The crew members must wear helmets, fire suits, and gloves. They must also stay behind the wall until the car is within one pit box of its stall. If any of these rules are violated, the car may face a penalty such as a restart at the rear of the field, a pass-through, or a hold in the pit box.
How pit stops are timed in NASCAR
The methods and technologies used to measure pit stop times in NASCAR have evolved over the years. Stopwatches or hand-held devices measured pit stop times manually in the past. Transponders, cameras, sensors, and software measure pit stop times electronically nowadays. A transponder is a device that emits a radio signal that identifies the car and its location on the track. A camera is a device that captures images or videos of the car and its crew during a pit stop. A sensor is a device that detects changes in physical conditions such as speed, pressure, or temperature. A software is a program that processes and analyzes the data collected by the transponders, cameras, and sensors.
Some examples of how pit stop times are displayed and analyzed are as follows:
On TV screens, viewers can see the pit stop times of each car as they enter and exit the pit road. To calculate the pit stop times, the car crosses two timing lines on pit road that are marked by yellow cones. The time difference between the first and the second crossing is the pit stop time.
On websites, such as NASCAR.com3, fans can access detailed information on each car's pit stop performance, such as the number of stops, the total time on pit road, the average time per stop, the best and worst times, and the positions gained or lost.
On apps, such as Pit Rho4, teams can monitor and optimize their pit stop strategies using real-time data and analytics. The app uses artificial intelligence to provide insights on how to improve pit stop times, such as by adjusting tire pressures, changing crew members, or altering fuel loads.
The factors that affect pit stop times in NASCAR are numerous and complex. Some of the factors are:
Track conditions: The shape, size, surface, and layout of the track can affect how fast or slow a car can enter and exit the pit road. For example, a track with tight turns, rough pavement, or narrow lanes can make it harder for a car to maneuver on pit road.
Driver skills: The driver's ability to control the car, communicate with the crew, and execute the strategy can affect how smooth or chaotic a pit stop is. For example, a driver who can brake at the right moment, hit the marks, and avoid mistakes can save precious time on pit road.
Crew performance: The crew's speed, accuracy, and coordination can affect how quick or slow a pit stop is. For example, a crew who can work in sync, avoid errors, and overcome challenges can shave off valuable seconds on pit road.
Strategy: The decision to pit or not to pit, to change two or four tires, to add more or less fuel, or to make any adjustments to the car can affect how beneficial or detrimental a pit stop is. For example, a strategy that can gain track position, save fuel mileage, or improve handling can pay off on pit road.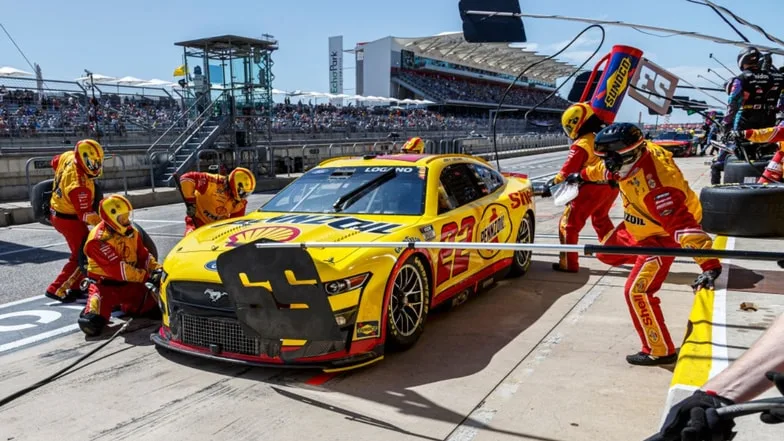 How pit stops affect race outcomes in NASCAR
Pit stop times can have a significant impact on race outcomes in NASCAR. Pit stop times can influence race positions, points, and wins in various ways. Some of the ways are:
Race positions: Pit stop times can determine whether a car gains or loses spots on the track relative to other cars. For example, a fast pit stop can help a car leapfrog ahead of its rivals, while a slow pit stop can cause a car to fall behind its competitors.
Points: Pit stop times can affect how many points a car earns during a race based on its finishing position and stage results. For example, a good pit stop can help a car secure more points by finishing higher or winning stages, while a bad pit stop can cost a car valuable points by finishing lower or losing stages.
Wins: Pit stop times can ultimately decide whether a car wins or loses a race based on its final position at the checkered flag. For example, a flawless pit stop can seal the deal for a car by giving it an edge over its challengers, while a disastrous pit stop can ruin the chance for a car by putting it at a disadvantage against its opponents.
How Pit Stops Changed NASCAR History
Pit stops are crucial moments in NASCAR races that can make or break a driver's chances of winning. Pit stops involve changing tires, refueling, and making adjustments to the car in a matter of seconds. The crew chief, the leader of the pit crew, has to make strategic decisions on when and how to pit the car. Sometimes, these decisions can change the course of NASCAR history. Here are some examples of how pit stops have altered race outcomes:
1992: Alan Kulwicki wins the championship by one point


In the season finale at Atlanta Motor Speedway, Kulwicki pitted for four tires and fuel on lap 328, while his rival Bill Elliott stayed out on older tires. Kulwicki caught and passed Elliott for the lead on lap 335 and led the most laps in the race, earning him five bonus points. Those points made the difference in the championship standings, as Kulwicki edged out Elliott by 4,078 to 4,077 points.

2001: Kevin Harvick wins his first race in a photo finish


In only his third start in the Cup Series, Harvick was running second behind Jeff Gordon when a caution came out on lap 311. Harvick's crew chief, Todd Berrier, made a bold call to take only two tires and fuel, while Gordon and most of the other leaders took four tires and fuel. Harvick restarted in the lead on lap 317 and held off Gordon by 0.006 seconds in a thrilling finish.

2017: Martin Truex Jr. wins his first championship with a flawless pit stop.

In the final race of the season at Homestead-Miami Speedway, Truex Jr. was running fourth behind Kyle Busch, Kevin Harvick, and Kyle Larson when a caution came out on lap 229. Truex Jr.'s crew chief, Cole Pearn, made a perfect call to take four tires and fuel, while Busch and Harvick took two tires and fuel, and Larson stayed out on older tires. Truex Jr. restarted in second place on lap 234 and passed Larson for the lead on lap 236. He then held off Busch by 0.681 seconds to clinch the title.
Conclusion
Various methods and technologies measure the time and distance between two points on pit road to time NASCAR pit stops. Different media and platforms display and analyze pit stop times and provide data and insights on pit stop performance. Race positions, points, and wins can depend on how fast or slow pit stops are.. Pit stops can change the course of races by creating opportunities or challenges for drivers and teams.
Pit stops are one of the most fascinating and exciting aspects of NASCAR racing. They require skill, speed, accuracy, coordination, and strategy from both drivers and crews. Pit stops can make or break a race or a season. They can create drama or joy for fans and viewers.
How do you feel about pit stops in NASCAR? Do you enjoy watching them or do you find them boring? Do you think they are fair or unfair?  As a fan, you have any suggestions on how to improve them or make them more interesting? Let us know your thoughts in the comments below.