If you watch Valorant on a regular basis, you definitely must be following Derke, one of the finest players right now who plays for Fnatic. He was born on February 6, 2003, and is just 20 years old. Since he is young, his reflexes have been really great and won him multiple trophies and his team multiple prizes. He is dominating right now with Fnatic and has grown a huge fanbase in the region.
Derke Net Worth 2023
| Attribute | Detail |
| --- | --- |
| Real Name | Nikita Sirmitev |
| Nationality | Finland and Russia |
| Birthday | 6th February 2003 |
| Age | 20 years |
| Height | N/A |
| Team | Fnatic |
| Currently Playing | Valorant |
| Net Worth | Approx. $61k |
| Professional Since | 2020 |
| Previous Team | Team Derke, KOVA Esports |
| Total Winnings | $211,482 |
| Largest Prize from a Single Tournament | $70,000 (VCT 2023: Masters Tokyo) |
| Total Tournaments Played | 36 |
| Notable Achievements | 1st place in VCT 2023: Masters Tokyo, Various MVP awards |
Fnatic Derke's Net Worth and Rise to Fame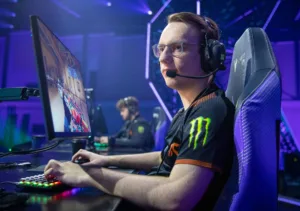 Early Life
Birth and Nationality
Born on February 6, 2003, Nikita "Derke" Sirmitev carries a unique blend of Finnish-Russian heritage. This mix has influenced his approach to life and, significantly, his gaming style.
Entry into Professional Gaming
From his early days, Derke had an inclination towards electronic sports. His journey began in 2020, venturing into the competitive scene of 'Counter-Strike: Global Offensive,' representing KOVA Esports with zeal.
Career Highlights
Transition to Valorant
2020 was a landmark year for Derke. He switched to playing 'Valorant,' a move that changed his professional trajectory. His skills didn't go unnoticed, as he caught the attention of major teams in the eSports arena.
Joining Fnatic
April 8, 2021, marked his initiation into Fnatic, a significant step in his career. This opportunity wasn't just about joining a new team; it was about showcasing his prowess on larger, more competitive stages.
Met this legendary player at the airport, was fun to play and meet you @ScreaM_ pic.twitter.com/pOKzK17YXD

— FNATIC Derke (@Derke) May 31, 2021
Notable Tournament Wins
Derke's list of accolades is impressive, with his first-place victory at VCT 2023: Masters Tokyo being a standout, contributing a substantial $70,000 to his earnings. His tactical gameplay and strategic foresight during matches have led his team to multiple victories, enhancing his reputation in the 'Valorant' community.
Statistical Analysis
Performance Metrics in Valorant
Analyzing Derke's gameplay reveals striking numbers. A rating of 1.24 across 6,921 rounds underscores his consistency. Meanwhile, an average combat score (ACS) of 263.4 and damage per round (ADR) of 164.4 demonstrate his aggressive, impactful presence in every match.
Comparison with Other Pro Players
When pitched against other professionals, Derke stands tall. His kill, assist, survival, and trading (KAST) percentage of 73.6% puts him in an elite bracket, often turning the tide in Fnatic's favor during crucial moments.
Also see – Why you should main Deadlock in Valorant?
Earnings Breakdown
Significant Prize Winnings
With total winnings amounting to $209,240.86, Derke has established himself as one of the highest earners in 'Valorant' history. His triumphs in various tournaments, particularly the S-Tier ones like VCT 2023: Masters Tokyo and others, have significantly boosted his financial intake.
Net Worth Accumulation
Considering his tournament winnings and salary, Derke's estimated net worth hovers around $61k. This figure is testament to his skill in 'Valorant,' and the value he brings to Fnatic.
Personal Awards and Recognitions
Derke's cabinet is adorned with multiple individual awards, emphasizing his importance in team dynamics. Accolades like "Duelist" and "MVP" at various stages of his career highlight his personal achievements and contributions to the team's success.
Future Prospects
What does the future hold for Derke? If his current trajectory is any indication, the sky is the limit. With continued dedication, there's little doubt that he'll add more accolades and earnings to his growing legacy.
Conclusion
Derke's journey underscores the limitless potential in the eSports realm. From his Finnish-Russian roots to his dominant presence in 'Valorant,' he continues to inspire many. His net worth and accolades are not just numbers but a storyline of dedication, strategy, and immense skill. A large number of viewers like players such as Tenz, some Scream and similarly Derke has made a popular name among the stars. As Derke's star continues to rise, the eSports world watches in anticipation of his next big play. What's certain is that his legacy will resonate for generations to come.