The newly released game Crab Champions created a good amount of buzz in the gaming community. It originated from the viral meme trend "crab dance", which was actually an animated clip from a music video. The game consists of some interactable objects which are also known as "totems". These totems don't have any specific location, they can be anywhere, and there's no fixed location for them. Different totems have different features, but in most of the cases, there is a high chance that you can get confused by it. Don't worry we gonna solve your confusion. There are a total of 9 totems, and each of them has different features.
1. Health Totem
If you get this totem then either it will boost your health by 50% or will decrease it by 50%. At times it can be a huge advantage to you, but there is a chance of it going against your favour. It is actually a tricky one but one of the most exciting too.
2. Crystal Totem
This totem provides 497 crystals but there is one more thing to it: it will take 33% of your health. So if you get crystals then you have to sacrifice a part of your health. It is kind of a good deal, you can have crystals which you can spend further in the gameplay.
3. Chance Totem
As the name suggests, this totem has gamble-like features. You will lose 10% of your health to get this totem and there is only a 25% possibility of getting any item in exchange. If you love to take chances in the game then you should definitely go for it.
4. Random totem
Just like the health Totem, this also has a 50-50 chance. If you want to enter a building that consists of all the totems then you have to complete a race and while doing so if you hit any random totem then everyone thing gets randomised. Sometimes it adds an advantage but mostly, it will disrupt your further gameplay.
Oh no what have I created 😳⭐️ pic.twitter.com/xohMHNP1MT

— Crab Champions (@CrabChampions) September 29, 2023
5. Gamble totem
In this, you give a set amount of crystal in return you will get a 25% chance of any random pickup. The crystals will increase till the time you use them. Eventually, the totem breaks in the end.
6. Fuse totem
If you get near this totem, it will explode instantly. So to get the item from it you need to hit fuse totem instantly as you approach. Since there is no fixed location of any totems, it will be difficult to predict your distance from the totems, you gotta be careful of this.
7. Gold totem
You need to sacrifice 25% of your health to get any item. It is comparatively the best totem out of all others since it gives random pickups but those are legendary pickups, not normal ones. This is one of the rarest totems that you will find in the game.
8. Greed totem
You will get a perk but that comes along with side effects. You will get a great advantage but in return, you are going to sacrifice a lot too. Since the name already gives the idea, it tests your greediness.
9. Glass totem
It gives you any item of your choice without anything in return, which means you will get anything of your own choice, but there is a twist. This totem explodes as soon as you get the desired item.
The Story Behind Crab Champions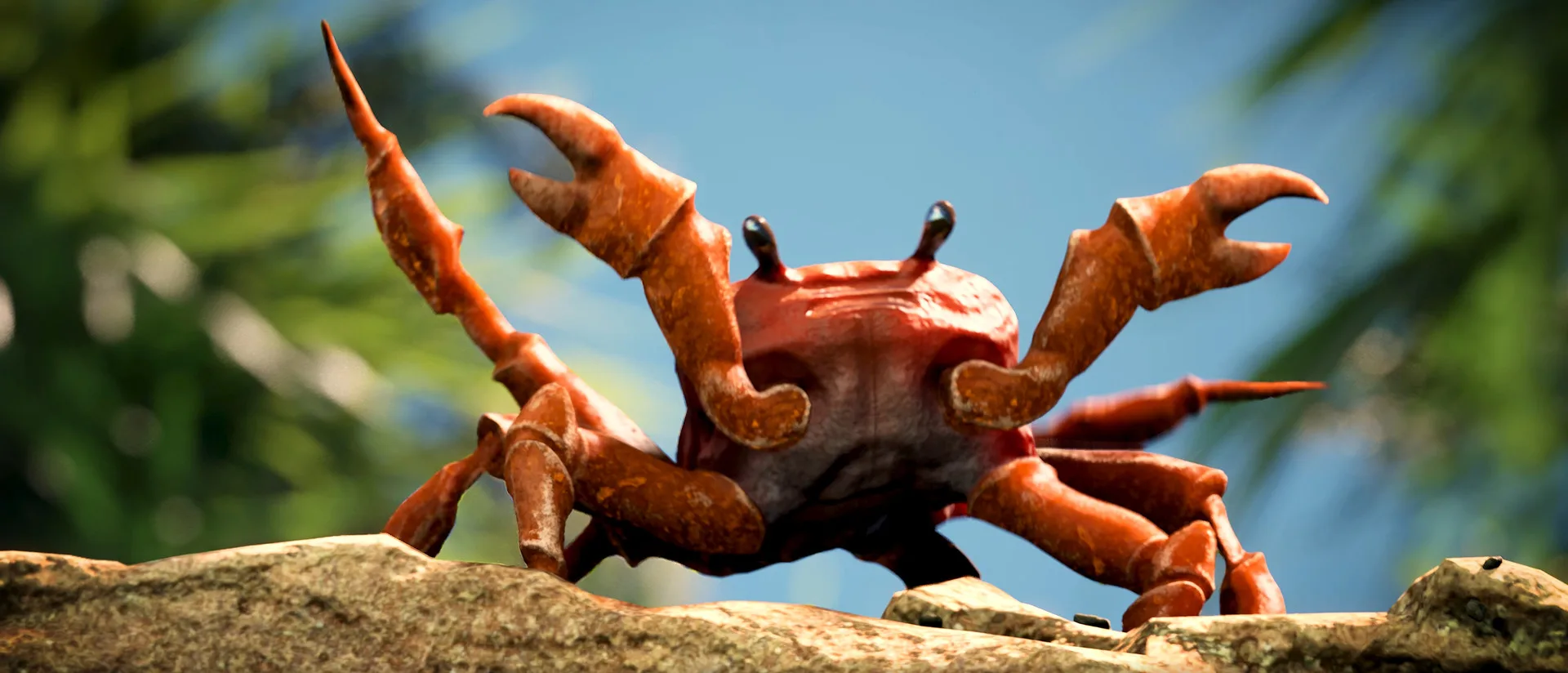 The game is developed by Eoin O'Broin who is a music producer as well as a game developer. "Crab Rave", a hit single by Eoin a.k.a Noisestorm had a music video in which an animation of a dancing crab was included. Slowly this video became viral and turned into a meme sensation. The music video gained millions of views and after a year of getting such a good response, Eoin decided to release a game related to the crabs. Crab Champion was released on April Fool's Day that is 1st April 2023, and has received good responses from users since then.
Reviews like this make my day (but also blow my mind that the comparisons are even being made)

Still a whole lot of work to do but designing with a fun > everything else mentality seems to go a long way which I'm really happy about 🦀 pic.twitter.com/ywdmpqyUI9

— Crab Champions (@CrabChampions) October 20, 2023

In the game we need to use firearms to destroy other crabs, there are different levels in the game. Players can play in any mode that they want, if they desire to play in multiplayer mode, they can do that, in the same way, if they want to play in the single mode they can do that too. Initially, the game gathered attention because of the dancing crab meme but slowly they realized that the game development part is strong too and it has received decent reviews from the gaming community. The fast-paced feature of the game impressed a lot of us and at the same time, it is turning out to be addictive too.
Conclusion
No one had any clue about the release of a game based on a meme but hats off to Noisestrom who did a phenomenal job on the game development part. Crab Champions got recognition due to the meme trends but would have gotten bad reviews if the game had been bad but the game turned out to be good and that shows the seriousness of the developer. If you are someone who loves role-play games then do check out our article on Baldur's Gate 3 Murmath: A Guide to Conversing with Murmath's Spiders.