Competitive gaming requires a high level of accuracy and every fraction of second matters while playing. Valorant, a game inspired by tactical shooters like Counter-Strike, requires a high level of accuracy and quick reflex actions. Just like in all FPS games, alone skills would not help you to stand out in Valorant. We will be looking out for the Best Mouse for Valorant that fits your pocket as well as give you the best experience while playing.
You might be an excellent player with amazing skills, but without proper gaming hardware, you can't make it too far. A good gaming setup is solely required to shine in the world of Valorant.
A high level of accuracy and paramount sensing requires an ergonomic and precise gaming mouse in the game. 
So, if you are looking to buy your first gaming mouse or wanna upgrade from the older one, you are on the right page. We have thoroughly been into the world of Valorant players and gathered the most preferred mouses by the players while playing Valorant. Before getting into it, it's recommended that you measure your hands to evaluate the size properly to find a better masterpiece for you. 
Let's get started!
Best Mouse for Valorant
1. Logitech G Pro X Superlight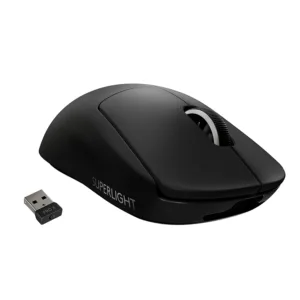 | Specification | Details |
| --- | --- |
| Battery Life | 70 hours |
| Dimensions | 4.92 x 2.32 x 1.57 inches |
| DPI Range | 100-25,600 |
| Buttons | 5 |
| Weight | 63 grams |
| Sensor | Hero 25K |
| Price | $115 |
Amazon Link for Logitech G pro X
The Logitech G Pro X Superlight is one of the most amazing gaming mice available in the gaming world today. Weighing only 63 grams, it comes up with a flawless sensor in Hero 25K, making it a perfect gaming mouse for games such as Valorant.
You won't find flashy features or designed RGB lights in Logitech G Pro X Superlight as makers have made the product performance oriented. Just a simple and durable mouse with a sleek design, reliable sensor, excellent battery life and low click latency. 
As far as pros, the G Pro X is seen accelerating the setups of numerous top-level players. This includes some of the world's top gamers. Talking about the design, the middle-of-the-road size can make you a little uncomfortable for small hands grip and palm grip users with large lands. It may also be uncomfortable if you prefer ergonomic shapes. Also, if you are searching for a right-handed design, you need to check other options in the list given below. Available in white and magenta versions along with natural black, it's a good choice if you want to add contrasting makeup to your setup.
Overall, the Logitech G Pro X Superlight is a marvellous piece for gamers. Including unique and sleek designs, and lightweight mice, made with top-notch sensors. It can be one of your best mouse for Valorant.
2. Razer Viper V2 Pro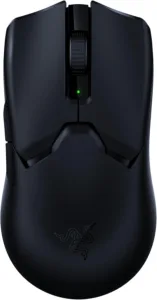 | Specification | Details |
| --- | --- |
| Battery Life | 24 hours – 80 hours |
| Dimensions | 4.98 x 2.61 x 1.49 inches |
| DPI Range | 100 – 30,000 |
| Buttons | 5 |
| Weight | 58 grams |
| Sensor | Focus Pro 30K |
| Price | $114.99 |
The Viper V2 Pro is Razer's latest and most amazing ultralight gaming mouse. With a perfectly symmetrical shape and all around performance focused design, it's perfect on your hands irrespective of your grip style. The Focus Pro 30K will amaze you with its amazing and persistent performance. Coming with a weight of just 58 grams, it's one of the lightest mice in the gaming segment and will bound you to choose over Logitech G Pro X. 
One of the standing-out features of the Razer Viper V2 Pro is the 4,000Hz polling rate option. But, it will add an additional cost of around $30 dollars, as you need to buy a separate Razer Hyperpolling Wireless Dongle.
One of the limiting features that may hesitate you is the battery life effect on 4,000Hz, which drops significantly from 80 hours to 24 hours at this polling rate. This may be quite unusual for many users. Besides that, some compatibility issues might occur at this polling rate. 
If this is not an edge for you then definitely you can consider this mouse as your gaming console. It is one of the preferred choices of Valorant players due to its excellent and everlasting performance. Apart from the sole black, you can opt for white colour also.
3. Razer Deathadder V3 Pro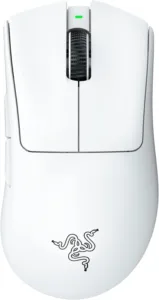 | Specification | Details |
| --- | --- |
| Battery Life | 24 hours – 90 hours |
| Dimensions | 5.00 x 2.67 x 1.73 inches |
| DPI Range | 100 – 30,000 |
| Buttons | 5 |
| Weight | 63 grams |
| Sensor | Focus Pro 30K |
| Shape | Ergonomic |
| Price | $146.20 |
Amazon link for Razer Deathadder V3 Pro
The Razer Deathadder V3 Pro is a premium segment mouse and the latest version of the Deathadder series. In a significantly lighter piece, you can expect all high-end premium features from this mouse.
It comes up with RGB lights to maximize battery life, 100% PTTE mouse feet that effortlessly swims on your mouse pad, with an optional grip tape. With its ergonomic shape of just 63 grams, it proves to be the lightest mouse in the gaming segment without compromising the build quality.
Despite being a new segment this hardware is the utmost choice for professional Valorant players. It shows players' faith in Razer's upgraded series due to its tough stand out in the competitive market.
So, if you are preferring an ergonomic shape DeathAdder V3 Pro should be a strong contender in your list due to its robust set of features, low weight and excellent field performance.
4. Logitech G703 Lightspeed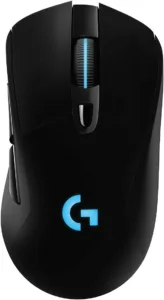 | Specification | Details |
| --- | --- |
| Battery Life | 35 hours – 60 hours |
| Dimensions | 4.88 x 2.68 x 1.69 inches |
| DPI Range | 100 – 25,600 |
| Buttons | 6 |
| Weight | 107 grams |
| Sensor | Logitech Hero |
| Shape | Ergonomic |
| Lighting | RGB |
| Price | $69.99 |
Amazon link for Logitech G703 Lightspeed
Logitech G703 has been a preferred choice for players from the date of its release in 2019. Its ergonomic shape makes it a perfect choice for pro-FPS players. It is a bit heavier and bulkier than other Logitech mice, but the design is surely amazing and is preferred by users who typically prefer a bigger mouse. 
The G703 Lightspeed has yet to receive the premium treatment that the G Pro Wireless gave the Superlight. Instead, Logitech has discreetly improved the mouse over the years. The battery life has been increased from 32 to 60 hours, and the outdated PMW-3366 sensor has been replaced by the top-tier HERO 25K sensor.
Despite its age, it is one of the most popular Valorant pro mice, among the professional Valorant players. Logitech's consistent upgrades have helped the mouse to exist in a competitive market. Also, its $70 price makes it the utmost choice mouse for assets-oriented players.
5. Zowie EC3-C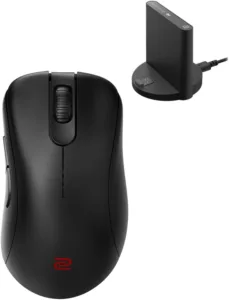 | Specification | Details |
| --- | --- |
| Battery Life | 35 hours – 60 hours |
| Dimensions | 4.72 x 2.40 x 1.61 inches |
| DPI Range | 400 – 3,200 |
| Buttons | 5 |
| Weight | 70 grams |
| Sensor | PixArt PMW-3360 |
| Shape | Ergonomic |
| Lighting | None |
| Price | $59.99 |
You might be wondering, what is a wired mouse doing in the list of modern gaming mice, especially when top-notch wireless alternatives are available in the series with durable sustainability. This could be a reason for you but some gamers still look out for the satisfaction in wired connections. For those players, Zowie EC3-C is a top choice.
The PMW-3360 sensor is a flawless and durable sensor with a high level of accuracy. Some gamers might feel it is an older version, limited to only 3,200 DPI, but you need to worry about that stuff as it's more than a limit for Valorant professionals. Also, its sleek and precise design with just a weight of 70 grams makes it a bonafide asset for your gaming setup. It's a true lightweight mouse that competes with the best options from Logitech and Razer.
One of the main issues with a wired mouse is the unusual cable wire. But Zowie has worked a lot in experiencing it for several years and designing durable wired mice. They have chosen a raised EC3-C cable which points upwards as it exits the mouse. The flexible cables ensure that the mouse glides smoothly with little chance of cable dragging.
If you are looking for a high-quality wired mouse, then this fantastic hardware is definitely a thing for you to choose. If EC-3 is too small for you, you can check different versions available, which are tough and compatible like EC-3 but with some more modifications.
Did you know – there could be an agent codenamed Giraffe coming up in Valorant ?
Budget gaming mouse for Valorant
Logitech G102 Light Sync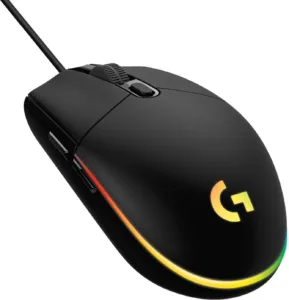 | Specification | Details |
| --- | --- |
| Battery Life | 35 hours – 60 hours |
| Dimensions | 4.61 x 2.44 x 1.5 inches |
| DPI Range | 200 – 8000 |
| Buttons | 6 |
| Weight | 85 grams |
| Sensor | Mercury sensor |
| Shape | Ergonomic |
| Lighting |  Colourful LIGHTSYNC RGB |
| Price | $32 |
If you are looking for a budget gaming mouse for Valorant and still want to hit those one taps, Logitech g102 light sync is the perfect choice for you in the market. It comes with so many features like customizable 6 buttons and a 200 – 8000 dpi range. You can download the Logitech G Hub software and can customize even the RGB colours of the mouse. It is very popular in countries like India where people can get a proper gaming mouse experience on a limited budget. 
However, there is a double-click issue that occurs with this mouse which is a manufacturing defect which Logitech still hasn't fixed. It starts occurring around 1 year of using this house. Since this does not happen with all the Logitech g102 mouse, you can buy it since it is very pocket friendly with a great gaming experience. Its RGB colours enhance the mouse's looks a lot.
Final Words:
Gaming mice have contributed a lot to the gaming industry over the past few years. Every gaming brand brought a lot of customization into gaming mouse. Brands like Logitech and Razer come up with advanced sensors and durable mouse switches. You should be free from in-game inaccurate performance or insufficient tracking with these mice.
The Razer DeathAdder V3 is one of our recommendations if you are opting for high-end software with a comfortable shape. The Logitech G Pro X Superlight is also one of our preferred choices if you are looking for a premium-segment gaming mouse with utmost durability and excellent performance. Thinking this stuff to be too expensive for your pocket, Zowie EC3-C is an excellent choice for your pocket and gaming setup.
We hope this article has provided you with the best gaming mouse you can opt for Valorant. Remember to choose the mouse that suits your durability, and gaming experience, and enhances your overall Valorant levels.
All the best!